NEWS: New Audio Visual Night at New River Studios ft. OvO
16th December/£7 ADVANCE/£8 OTD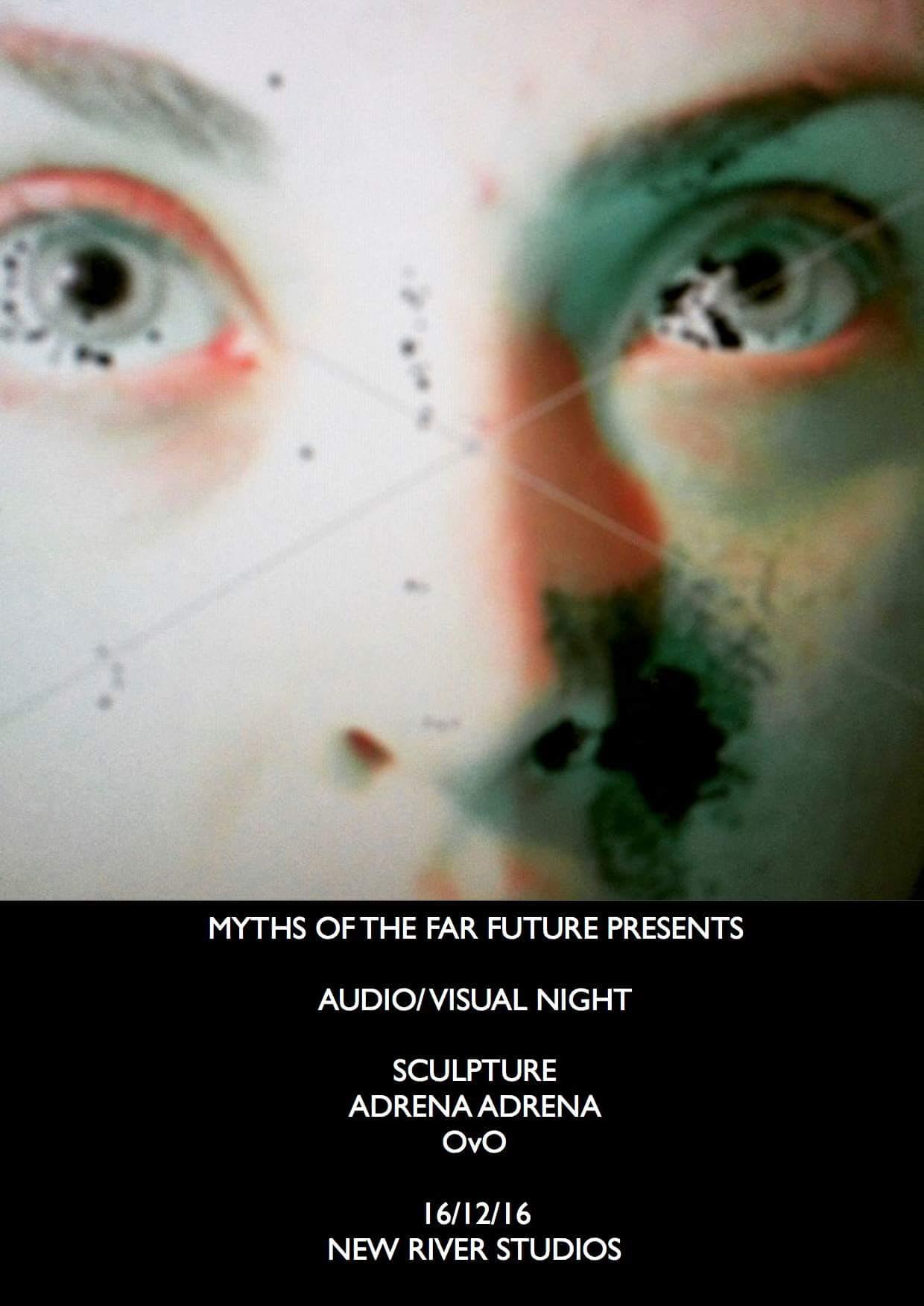 Audio Visual Night is a new interactive experience for lovers of experimental art and krautrock expression. The eclectic line-up consists of Sculpture, Adrena Adrena (Boredoms, Seefeel), OvO, Aa3 Recordings DJs + Visuals by visual artist Tomas Jef and DJ Kenichi Iwasa (Krautrock Karaoke).
16.12.16 from Daisy Dickinson on Vimeo.
Lineup
Sculpture
Sculpture is the duo of electronic music producer, Dan Hayhurst, and animator, Reuben Sutherland – manipulating physical and digital media into energetic amalgams, inspired by a continuum of exploratory practice in music and abstract visual art while following their own idiosyncratic vision – a DIY aesthetic encompassing auto-­production, pop music, noise, comic strips, abstract film and animation, collage and polymorphic techno.
Live performance is integral to their work. Sutherland's visual turntablism employs a library of zoetropic cards, printed with intricate patterns of illustrated frames which come to life when filmed with a video camera, projecting looping fragments of surreal, luridly coloured imagery into eyeballs and brains at 25 frames per second – mechanical imaging technology combined with digital video and software based practice, operating like a musical instrument. Hayhurst feeds tape loops, lo-fi electronics, and digital sequences to a battered reel to reel tape recorder, CDJ deck, walkman, sampler and FX units. Balanced on the edge of control, the resulting polymedia overload is raw, exciting, the process visible to the audience, experimental and joyous.
Form Foam EP pre-order by Sculpture
Plastic Infinite from Sculpture
Plastic Infinite from Sculpture on Vimeo.
Adrena Adrena
A collaboration between drummer E-Da Kazuhisa (Boredoms, Seefeel) and visual artist Daisy Dickinson, 'Adrena Adrena' cuts a raw blend of drums, noise and organic visual work. Adrena Adrena as a live performance features an 8ft white sphere with video mapped onto it. Kazuhisa plays drums and noise while Dickinson live mixes visuals onto the ball.
Their debut was at the International Festival of Projections in early 2016 and have since performed at End of The Road Festival, Supernormal Festival, Fort Process Festival, Zorofest in Leipzig and other shows across the UK and Europe with Acid Mothers Temple and members of Wire and Bo Ningen. The pair completed a short film in 2016. 'Man on the Hill', which has since been featured on the British Council Film website and in 2016 was nominated for The BFI London Film Festival, Encounters Short Film and Animation Festival, BAFTA qualifying Aesthetica Film Festival, The London Experimental Festival, Vienna Independent Short Film Festival and the London Short Film Festival.
"The centre of the stage was taken up by projections which, always simple and often semi-abstract, never stole the limelight from the music. It was more like watching a trio, just one at work on different senses to the others. Pretty soon you weren't taking in the sights and sounds as separate elements at all, but hand been induced into a kind of synaesthesia. And if that seems like we're reverting to Sixties terminology like 'trip' we might as well go with it…. it felt like a trip (man), like being taken through some other reality then dumped back in ours at the end." – Gavin Burrows (Lucid Frenzy)
OvO
OvO is a London based artist collective of Media Artist, Noriko Okaku and musician, Monchan Monna (Bo Ningen) – They have been active since 2015.
Noriko Okaku was educated at Chelsea College of Art and Design and the Royal College of Art, completing an MA (RCA) in Animation. Her work, in various mediums, often retains a collage art element. She borrows, adopts, copies and recycles existing images to explore the diverse avenues of perception. Monna is a professional drummer in an ongoing band, Bo Ningen. His interest is to pursue the correlation between sound and visual.
Their first show untitled no.1 was performed at The Barbican Centre, London in 2015 as part of Station Station Exhibition by Doug Aitken.
Filmography:
2016: untitled no.2 (45'00") – premiered at Flatpack Festival, Birmingham 2015: untitled no.1 (15'00") – premiered at Station to Station, Barbican, London
DJ Kenichi Iwasa (Krautrock Karaoke)
Aa3_Tzt.RN500 DJs + Visuals by special guest Tomas Jef
Here we caught-up with the organiser and avant-garde filmmaker Daisy Dickinson, to find out more about it…
How did the inspiration for the night come about?
D.D: At the beginning of this year I began my audio/visual collaboration with drummer e-da kauhiza, Adrena Adrena. We've been looking for other AV acts to collaborate with and I remembered seeing Sculpture perform at ATP Festival in 2015. We played with them at Fort Process festival in August this year and I came away feeling inspired by their performance. I wanted to create an event consisting entirely of audio/ visual performances as there are so many interesting AV acts emerging and I hadn't found many nights that focus solely on this concept. I got in touch with my friend Noriko, as I remembered her performance at the Barbican earlier in the year with drummer of Bo Ningen, Monchan. Their project 'OvO' aims to pursue the correlation between sound and visual and promises to be an interesting piece. The 3 three live acts will be followed by Aa3 Djs & visuals by special guest Tomas Jef.
Anymore plans for more Audio Visual events in the new year?
D.D: Let's see how this one goes!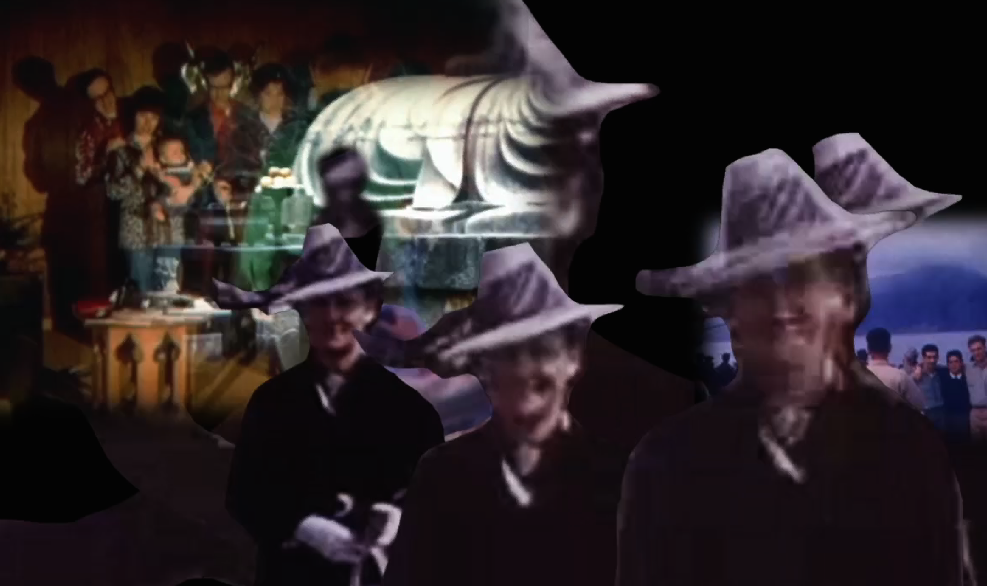 Pre-order from See Tickets here