Are Google & Amazon's New Free Music Services A Financial Threat To Spotify?
Words by Jenna Dreisenstock
With the announcement that Google and Amazon are implementing a new free music streaming service, the conversation regarding competition of streaming platforms and generated revenue continues. The two companies have confirmed that via home devices, such as Amazon's Alexa, users will have access to free music streaming – which could prove a possible issue for other music streaming platforms such as Spotify.

Spotify, in its popularity, has faced it's fair share of both praise and controversy. The access the platform allows to a vast library of music, available on demand on all digital devices, is an irresistible selling point; made even further accessible with their free use option, and the option to upgrade to premium if the user wishes. The option for users to continue use of the platform without paying for subscription allows for an increased user database as revenue is generated by advertisement. This has brought controversy to the platform however, as with the 'freemium' option, Spotify has been put in the spotlight for allegedly undervaluing artist's work; with their free use option allowing for minimal payouts due to low advertising revenue, as opposed to revenue generated by premium users.

According to a study by The Trichordist, the free-tier payout by Spotify per stream rates values at only $0.00331. The study also states:

"Nearly 50% of all recorded music streams only generate 7% of revenue."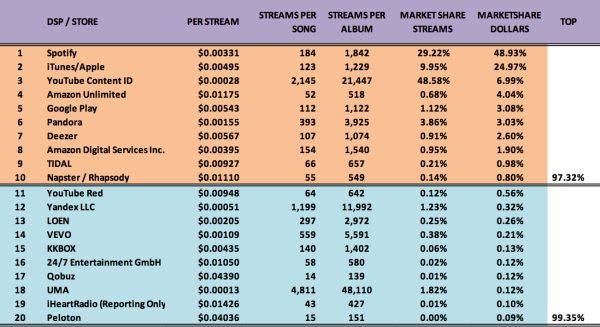 This leads us to question the benefit of the artists within these streaming services, and how exactly free-tier and premium services affect businesses, consumers and creators, yet this is up for debate. Amazon and Google's strategy with their new free streaming services break away from revenue generated solely by free-tier advertising, and play on offering an alternative to their digital device competition; which includes the promotion of their home speakers – venturing further into audio centered business ventures, which could possibly expand further as they encompass various aspects of audio consumption within people's day-to-day lives; adding further opportunity for marketing generated profit.

As these companies branch further out into overall audio and product advertising which could produce large amounts of advertising revenue – as opposed to revenue generated by advertising such as with Spotify's free-tier option, this spells possible issues for Spotify. The competition between possible investment options when it comes to marketing may prove to be a difficult obstacle. The combination of audio-tech marketing combined with free music streaming services could up the tech companies already high rates of advertising generated revenue.

According to an earnings report by Alphabet / Google, the company generated over $32.6 billion in advertising revenue in 2018 alone, with Amazon earning $10 billion despite advertising being a minor venture in the massive corporation. In a 12 month period, Spotify generated only $640 million in advertising revenue, which shows the huge disparity between the companies.

With the advancement in the giant tech-companies ventures with their own home, voice-activated audio devices along with these newly created free streaming services, Google and Amazon could offer a new direction in audio consumption and possible higher advertising revenue. This new development could damage services such as Spotify as this competition arises, with the streaming service required to tackle their approach toward marketing and advertising in hopes for growth in revenue.