THE PLAYGROUND presents LEFTFIELD- dj, MODEL 500 – Live, A Guy Called Gerald [Live In Session], DJ Hell, Troy Pierce, iTAL tEK + Mixhell – Live!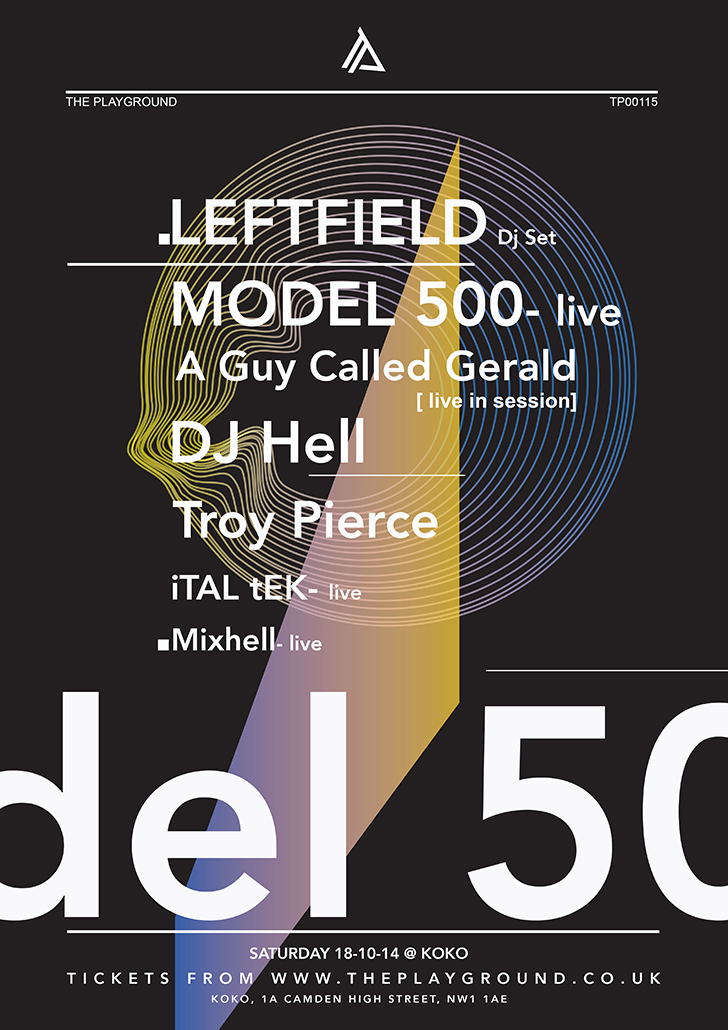 Following the success of our last night at KOKO, The Playground is proud to present another spectacular line up! Leading the night's proceedings will be LEFTFIELD- dj along with Juan Atkins and "Mad" Mike Banks Live Techno group MODEL 500, supported by a one off live performance from A GUY CALLED GERALD – Live In Session, as well as DJ Hell, TROY PIERCE, iTAL tEK, and Mixhell – Live.
►LEFTFIELD have been at the cutting edge of dance music since the 1990s, releasing albums that have become some of the most influential electronic records of all time. Playing a pivotal role in the evolution of electronic dance music their debut release, "Leftism," was a smashing success that redrew the borders for dance music, pioneering a radical hybrid of dub and house and breaks (long before anyone had invented big beat), the term progressive house was coined to define their style. Leftfield were notable for their use of guest vocalists in their electronic music, among the more prominent were Toni Halliday, on "Original", Johnny Rotten on "Open Up", Djum Djum on "Afro-Left" along with Earl 16 and Cheshire Cat on "Release the Pressure." Their sound-system became notorious for reaching obscene sound levels, that on a few occasions had venues banning the group from future performances. Most notable was their performance at Brixton Academy, where their bass vibrations managed to cause plaster to fall from the ceiling.
►MODEL 500 (Live) – Juan Atkins, one of the Belleville Three, also noted as the Godfather of Techno and a key player in the development of the Detroit sound. At the Age of sixteen Atkins first heard electronic music, which proved to be a life changing experience. He bought his first analogue synthesizer, a Korg MS-10, and began recording with tape decks and a mixer for overdubs. He subsequently taught Derrick May to mix, and the pair started doing DJ sets together as Deep Space. Atkins later began recording as Model 500 in 1985 and founded The Metroplex label. His first single as Model 500, "No UFOs" was a hit in Detroit and Chicago, this was followed up by a string of hits that lead to him to become the "Godfather" of Techno. The current MODEL 500 lineup now includes Mark Taylor, Mike Banks and Milton Baldwin.
►A GUY CALLED GERALD (Live In Session) – The gateway between Chicago House/ Detroit Techno and the Uk Dance explosion in the 80's. The first, if not only, Acid House producer to have 2 instrumental dance tracks in the UK charts at the same time. His visions, stylistic versatility and open-mindness helped forge the development of global dance culture and helped to pioneer the Jungle/ Drum & Bass scene, with "blueprint" tracks like "28 Gun Badboy" and his critically acclaimed "Black Street Technology" album. A Guy Called Gerald is still touring worldwide, playing anywhere from 2 to the now legendary 14 hour sets – no DJ software, no gimmicks, just pure undiluted beats strictly for the dancefloor.
►DJ Hell – Helmut Geier is 46 years old and has DJ'd for more than half those years. In 1985, he was one of the first in Germany to DJ house music, back when Steve 'Silk' Hurley made the first Chicago house tracks. In 1996 he founded International Deejay Gigolos Empire, his rebellious creative streak gave the label a punk DIY aesthetic. An open-ended techno imprint with a natural pop sensibility, Gigolo immediately stood out and attracted like-minded artists such as Fischerspooner, Vitalic, Miss Kittin & the Hacker, Tiga, even the Pet Shop Boys, Jeff Mills and Dopplereffekt. Through this label he put out lost classics by Chicago house legends Bobby Konders and DJ Pierre. He also re-released what's considered the first Detroit techno song, "Sharevari" by A Number of Names, and rekindled the career of new-wave heroes Tuxedomoon. DJ Hell's success and nature towards the music scene has earnt him the title, "das gute gewiessen des deutschen techno," which means "The good soul of German Techno."
►Troy Pierce – Troy Pierce was raised in Indiana, the neighbour to Chicago & Detroit, and developed a love of dance at an early age. This passion grew with him and eventually he became a pillar of the modern Techno community. The Troy Pierce sound is one which has constantly veered from dense, layered and abstract to stripped down, acid infused and pulsing. His sonic palette is one that draws on a wide array of influences and reaches far outside the confines of the studio and into another world entirely. Fusing techno with minimalism, darkness with light and heaviness with rhythm, this American has never been afraid to experiment in the outer regions of his vast musical universe. Troy Pierce's success has lead him to host many world tours, live shows, produce countless albums & singles under various aliases and as part of more than one studio collective.
►iTAL tEK – Alan Myson, 25 year old producer, DJ and label owner from Brighton. Since signing to the legendary Planet Mu label in 2007 with the hard industrial infused dubstep of "Blood Line EP" he has progressed to become a exciting and unique voice in the world of electronic music. Ital Tek has carved his own niche in the broad spectrum of bass music by creating evocative melody rich yet dancefloor friendly electronic music with references to classic Electronica, Hip Hop and Techno blended masterfully to create his own style of hard hitting and melodic bass music. Through Planet Mu, Myson has released numerous EPs and two full length albums, 2008's Cyclical and 2010's Midnight Colour to critical acclaim, with supporting DJ mixes on Mary Anne Hobbs' BBC Radio 1 show. She also asked Ital Tek to write an exclusive track as the opener to her 2008 Evangeline compilation showcasing the best of the dubstep and bass music scene.
►Mixhell (Live) – Comprising of Iggor Cavalera (drummer of Brazilian super band Sepultura), his wife Laima Leyton (DJ & Producer) and Max Blum (Bass player). Mixhell is a new and exciting collaboration which aims to fuse together abstract live drums and underground techno. Driven by an overwhelming presence of an organic, intuitive and complimentary musical sound, Mixhell have unleashed the project from the studio onto the stage creating an explosive live act. Future releases include their upcoming EP release alongside DJ HELL on Bad Life Records.