Lust For Youth Dance The Cold Light Glow In Their Self-Titled LP
Lust For Youth | Self Titled | Sacred Bones
Release Date: 7th June, 2019
A sweeping synth-pop dance, cold to the touch yet warm in the blue light. To reflect upon the self; submerged in insight, longing for the sun yet still bathing in the moon. An embrace of animated melancholia, vibrant – beautiful to observe, the love that comes with nostalgia – a recollection painful, yet charming.

Hannes Norrvide and Malthe Fischer of Copenhagen electro-pop, coldwave tinged projectLust For Youth present a loving, intimate exploration in their return with their self-titled album, tender with melancholia yet hopeful and nostalgic in tone. Experimenting with dynamic tones unable to fit within a binary, the 80's post-punk overlay dances sweet, animated and upbeat – with vocals drowned in reverb, gently distorted synths decorate the vibrant tracks; an album filled with emotion, tears shining in a dancing morning light traverse.

'Venus De Milo' opens with a bouncy electro-pop beat, tinged with a coldwave chill; a melancholic synth-dance, introspective in tone, shining in an 80s nostalgia. Echoic vocals sing in the submerge of reverb, a distant post-punk shimmer heavy in reflection. The aura of intimacy woven within the steady pop beat, gleams with studded tender synths; icy melodies glowing amongst the lyrics, inner thoughts reflected in a diary – youth slipped between the lovesick pages. The track glows hopeful, swirling in nostalgia with an animated dance.
'Great Concerns' greets listeners with a dreamy opening, a glittering beat rising into an energetic soundscape; morning light tinted with a saddened dew, cold rays enveloped in a reverb soak. A bittersweet joy shines through the rhythm, a steady progressive beat one cannot help but dance to – foot tap, head bop synth sweetness. Reminiscent of New Order with the crisp, chill dance of the upbeat x melancholia with signature 80's timbres; vocals sunny in an electronic rain, sweetened with moments of loving reflection and vulnerable observation.
'By No Means' introduces itself as jovial, animated; impossible not to dance along, enveloped in the honeyed nostalgia that gleams bright throughout the album. The upbeat tempo a joyride, an engulf of joy and vocals affectionate; to feel a vibrant blue, an excited sadness – hope and ambition peeking through each driven note. A simultaneous sunrise and sunset; a sentimental beauty and immersion dynamic in tone, a dreamlike yearning gleaming through the vocal embrace.
In their self-titled album, Lust For Youth create a world so familiar to all; gorgeous dance-pop reflecting a nostalgia that leaves many of us with emotional pangs – while still managing to create an aura of glowing fun, of longing and hope. Rays of vulnerability star-stud a reflective soundscape in an electronic, intimate exploration of the self, of relationships, of the future and past: both shining bright within the freezing cold light.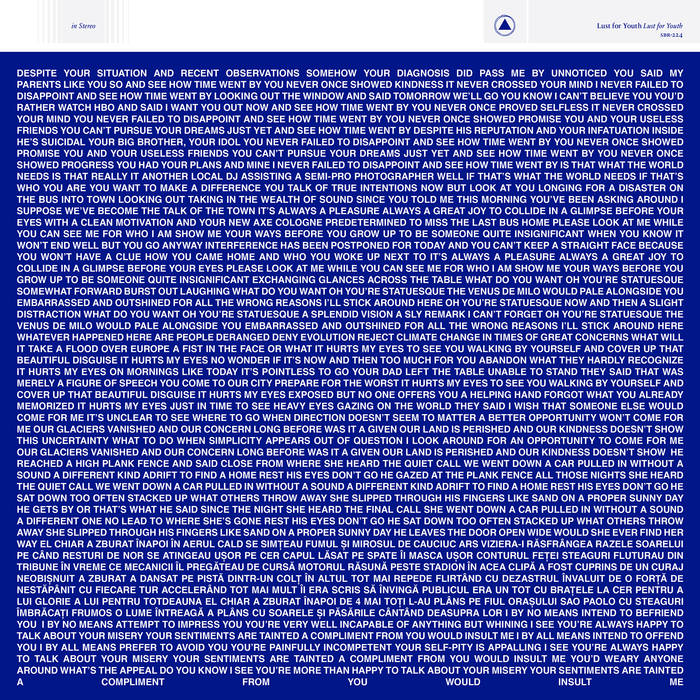 Review by Jenna Dreisenstock