5 Minutes With… Generate App
"Generate is revolutionizing the way we share and create moving images on our devices today"
Generate is an "audio-visual mobile creation" app that is describe to be revolutionizing the way we share and create moving images on our devices today.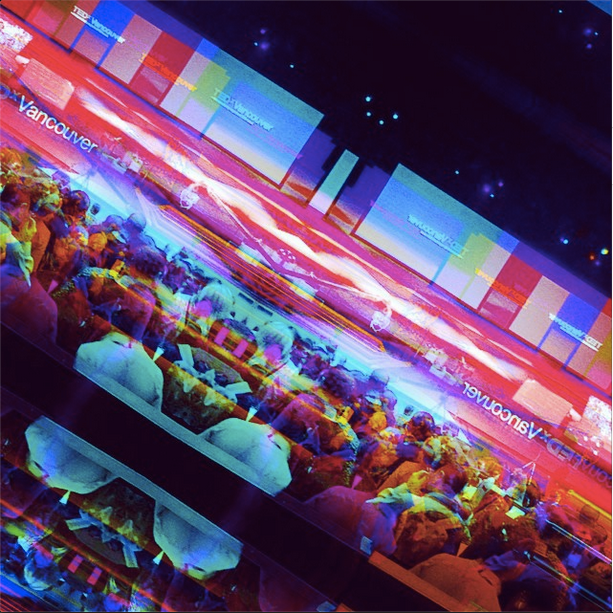 It's has been used to add creativity to some of the worlds most inspiring events including Art Basel Miami, CMJ New York, Decibel Festival in Seattle and TedxVancouver as well as utilised by bands and artists across the world to create their own music videos.
Check out Vancouver's, Soft Cops new video, which was created using the APP below:
 We had a chat with the Generate team to get a bit more of an insight into the app that's got everyone talking (and downloading). 
Hi
guys. Why don't you start by telling us a little bit about how Generate works?
Generate is a free app for Android or iOS devices that turns your phone into a digital production studio. It's most unique features are audio-reactivity that makes the filters you apply respond to music or the microphone, so you instantly get music videos that look like professional AV. With Generate Pro a feature upgrade within the tool you can record unlimited video in high resolutions and project the output using AirPlay. Professional artists looking for creative mobile solutions love Generate but it also appeals to anyone who wants to take their media production to the next level.
How did you first come up with the idea for Generate?
Generate was born from years of experience working with creative technology producing interactive installations and performance. Coming from this background Generate is truly an artist led mobile application and we felt that it was the logical next step for media production and something that currently does not exist in the market.
What would you say gives Generate a unique edge and sets it apart from other apps of its kind? We'd imagine it's quite a competitive market…The largest aspect of Generate that sets it apart is its live processing.  This allows for videos to be made in real time, to be streamed, to be projected, and addresses a need that is burgeoning at the moment.  Its the speed and alacrity, as well as the simple UI, which sets it apart.  Its true, there are so many options for photo apps today, and it's really helped elevate photography, however when it comes to creative production there is still a huge gap between the knowledge level and monetary investment necessary to use complicated software that hinders both professionals and consumer alike. We believe Generate is the next step when it comes to mobile aesthetics as well as output. You can shoot video or images, in various formats, add music and layer really unique filters onto media and we've built very robust sharing system as well as an in-app creative network. It's like a whole new ball game when you're talking about photo apps.
What kind of audience does Generate aim to cater to?
Definitely creatives of any skill level. If you have the desire to explore your creativity and a smartphone you can dive right into Generate. It's perfect for professional artists due to its mobile platform and ease of use. You can literally output content in minutes and that helps keep the creative juices flowing. But similarly anyone who just likes to play around with media creation is drawn to it for the same reasons. We're also noticing that cultural producers like record labels, event promoters and basically any industry that uses social media are adopting it. It's great for promoting events online and live by remixing content and sharing it really rapidly.
How has Generate developed since its launch?
It's incredible how much Generate has evolved. The core mission is still completely the same, but we're working much more quickly because we know exactly what is next. Now that it's out in the public it's like a mirror and we see exactly how people respond to it. So that's been really helpful in driving it forward, but it's really become very crystalized where Generate is going at this point.
You've said that Generate can turn your phone into a "Digital production studio", do you think it's actually possible to achieve the same results on a phone as you would a computer?
Mobile devices are incredibly sophisticated. There is an ad campaign right now for the iPhone 6 that are just beautiful, large images. It can capture in 1080p which is basically industry standard, and with Generate that is one area where we really excel. With the upgrade to PRO you can capture at full capacity, so if you're on a current device you'll get amazing quality. On the other side, smartphone aesthetics are becoming the norm. You can see this in the effect of instagram filters in professional ad campaigns. Producers and advertisers know that the aesthetic of a smartphone is the most relevant, and we're already seeing professional advertisements, music videos and basically any type of media mimicking this or trying to be "guerrilla" and disguising it.
What are the main differences between Generate and Generate Pro?
With Generate you get access to the same filter sets, audio-reactivity and shooting both video and images, so it's an incredible free app. With PRO you get endless recording(it's only 15 seconds otherwise) the ability to project live and higher resolution.
What does the future look like for Generate?
The future is incredibly exciting right now. We have so much going on and we wish we could just release it right away. We're developing a ton of new filters, so those will be rolling out very soon. We're building editing features so you can edit media before bringing it into Generate and also post-production features when you are exporting. We're going to be expanding our network options with some really cool features like the Regenerate button that allows you to sample others media and remix it, plus the ability to make custom filter combos. We're also developing a desktop plugin for live settings and cloud features to store media and make it accessible on other devices like your laptop.
Click here to find out more about Generate.