Review: The Tender, Emotional Ambience Of Jon Hopkins' Cover Of 'Dawn Chorus'
Jon Hopkins | Dawn Chorus (cover) | Domino Recording Co.
Release Date: 10 December, 2020
There's nothing quite like the warmth we feel when one of our favourite artists pays homage to another artist we deeply admire and love.
To see their take on the original musician's track is always fascinating, as the other dives into a personal traverse, allowing for the artist to create something brand new, in admiration and respect; but with their distinct techniques and signature styles that label them as beloved in our eyes in the first place.
This is definitely the case when it comes to Jon Hopkins' brand-new, stunningly tender cover of the melancholic beauty of Thom Yorke's track 'Dawn Chorus' – as a part of Yorke's 2019 'ANIMA'. While both artists barely need an introduction, the new release from Hopkins, one of the most well-known names in the left-field electronic music industry has shared his own, delicately beautiful take on the track after falling in love with 'Dawn Chorus', with his cover focusing mainly on piano and a beautiful, lavish ambience. Hopkins has stated:
I felt such bliss the first time I heard this piece; it seemed so mysterious and hypnotic, oblique but warm. I thought there was so much beauty in that chord sequence that there was room to explore it on the piano and see what grew from it. One day in early April when everything was particularly quiet and surreal outside, I went into my studio for the first time in weeks and ended up recording the whole thing in one take. I left it very raw and upfront, with just some sub bass and vocal drones in the background. The whole thing was done in a day and was a very cathartic experience.

Jon Hopkins
Yorke's original track is outstandingly beautiful in its delicate theatrics; while quiet, delicate and gentle – the track segues into a warm, bright crescendo, with Yorke's vocals taking center stage. In Hopkins' cover however, the musician takes the track in a different direction as he focuses on a much softer approach to 'Dawn Chorus', his main instrument being his piano; the wistful nature of the chords gleaming with a hypnotic elegance, the companionship of the crackling ambience tender and charming.
One can't help but reference the artwork for Hopkins' cover, the imagery of the effervescent fire in the midst of the dimming sun as it begins to lower, sings with loving tranquility and a deeply introspective tone. The sub bass and vocal drones Hopkins' mentions crafts a lush feel to the track; sculpting ambient realms, especially with very few instruments involved while still creating a beautiful sense of depth and highly noticeable personal touch is not an easy feat, yet Hopkins' manages to accomplish this in a manner that is luminous and rich with emotion.
Of course, Hopkins' cover remains instrumental, yet still captures the resonant, passionate feel of Yorke's original track. Hopkins' cover is a delight to listen to, and shimmers as a wonderful homage to the original 'Dawn Chorus' yet still showcases the musicians own personality, a bewitching experience for lovers of both Hopkins' and Yorke's work.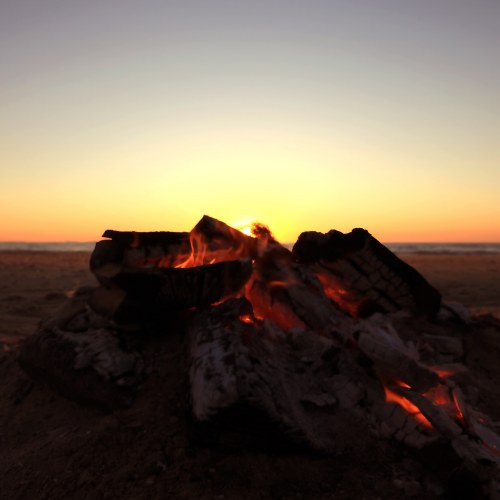 Listen to the original track by Thom Yorke here.
Feature Image: Jon Hopkins by Steve Gullick