Review: The Innovative Core Of 'Skeleton' Captures John Carpenter's Brooding Experimental Prowess
John Carpenter | Skeleton (single / b-side: 'Unclean Spirit') | Sacred Bones
Album Release Date: 28 August, 2020
When it comes to the work of John Carpenter, it feels as though there are few words that can describe the filmmaker and composer's legacy he has established throughout the last few decades. Known as one of the most iconic directors and composers in the film industry with his critically acclaimed films and accompanying scores: Carpenter has carved a name for himself that will never be forgotten, with his outstanding skill turning the artist into a pop-culture legend.
With a stunning number of critically acclaimed film scores created by Carpenter, the artist has actually only released three studio albums that are not soundtracks: and only recently with the success of his Lost Themes series has led the artist to focus on his own music as opposed to film scores, aside from his involvement in the most recent installment in the Halloween Franchise.
Carpenter, along with his son Cody Carpenter and his godson Daniel Davies scored director David Gordon-Green's direct sequel of John Carpenter's classic 1970's horror flick Halloween, with the contemporary sequel being released in 2018. However, in his upcoming non-soundtrack album 'Lost Themes III' the four year long awaited follow-up to 2016's 'Lost Themes II', the cohesion of the trio has allowed them to produce something completely different, as stated by (John) Carpenter:
It was refreshing to be able to write music that didn't have to fit to any sort of locked image, we also had a specific focus and direction we wanted to follow when working on Halloween, both in terms of mindset and instruments, and being able to return to working without that narrow focus was refreshing. Although working on Halloween didn't specifically influence any of these new compositions, there is always a honing of craft that must take place when working on a film like Halloween, and our improved skills definitely helped us in writing these songs.

John Carpenter

The new single 'Skeleton', along with its B-Side 'Unclean Spirit' are a taste of what's to come for 'Lost Themes III' – excluding the forthcoming soundtracks arranged by the trio of Carpenter, his son Cody and Davies who are working on the scores for the next Halloween film installments.
When it comes to 'Skeleton', the emphasis on texture is absolute strong point, grabbing our attention immediately – palms pulled taut into the rich, atmospheric darkness. The track greets us with anxious percussion, a low distortion and swelling synths which craft a detailed segue into a strong, confident beat. Pulsing in the cloak of midnight shadows, the beat sculpts a sturdy backbone for the rest of the composition, the intricate layering of textures from both synthesizers, piano and guitar crafting an otherworldly, highly atmospheric realm rich with detail and, with it, comes a sense of storytelling – the lush, bold soundscape swirling as though it were portraying a narrative seemingly effortlessly – whether intentional or not.
Each synthesizer texture used captures one attention with a plethora of tones – whether it be the brooding, blood red heartbeat or the radiant, melodious harmonies singing in their extraterrestrial glory. The use of melancholic keys and powerful, distorted guitar riffs alongside their synthesizer companions makes for a composition that comes across as highly innovative and refreshing. An intriguing combination of elements of dance music, with the ability to create outstanding atmospheric works using "traditional" instruments such as keys and guitar. This type of experimentation could have gone extremely wrong – but in Carpenter's and his co-composers case, 'Skeleton' is expertly done.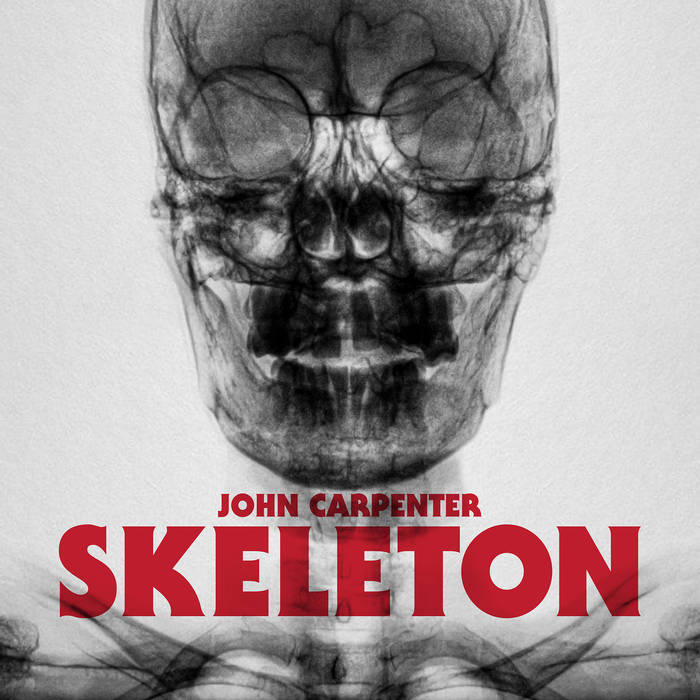 Rating: 9 / 10
Feature Image: John Carpenter via Sacred Bones Records