Jay Z Reacts To Tidal Criticism
Since its official launch in March, Tidal has been deeply criticised by a huge proportion of the public; many of whom are very sceptical of its intentions. Tidal sells itself as "the first artist-owned global music and entertainment platform" – supposedly paying the highest percentage of royalties to music artists and songwriters within the music streaming market.
For the first time since the launch and the onset of scrutiny began, Jay Z took to Twitter to defend the premium music app that he has put his name and his money behind.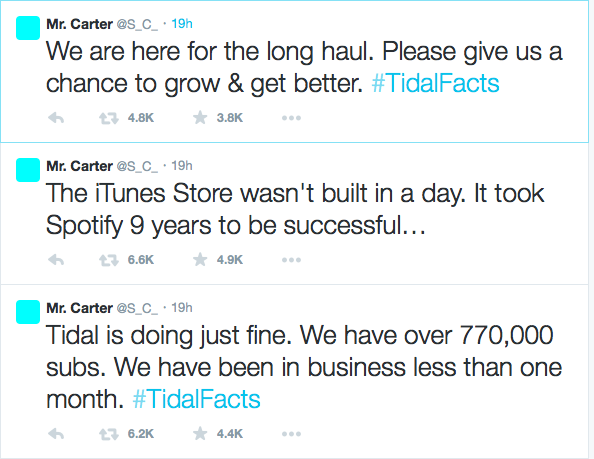 Whilst Jay Z is publicly defending the company, it was rumoured that last week Kanye West deleted all mention of Tidal from his Twitter feed as well as removing the now famous blue avatar as his profile picture. Despite not giving any indication as to why the posts had been removed, items such as "Together, we can turn the tide and make music history. Start by turning your profile picture blue. #TIDALforALL" are now nowhere to be seen on the Tidal co-owner's Twitter profile. 

Last week it emerged that Tidal had now fallen from iPhone's top 700 apps which is driven by downloads. It has now also surfaced that Robert Kondrk, Vice President of iTunes content has threatened to essentially cut ties with the artists involved with Tidal. Page Six reported that  "Robert told execs at Universal Music Group that Rihanna and other Tidal artists' music would not be promoted as featured artists on iTunes if they put exclusive music out on Tidal."  Apparently these claims were supported by another source that stated "That is normal operating procedure. If an artist chooses to market content exclusively with another rival retailer, no company is going to market or push content from that artist that hard."
Beyoncé, Madonna and Daft Punk are also among the co-owners of the streaming service which is still yet to win over the majority of public opinion.