J-E-T-S Electric Exploration Of The Experimental In ZOOSPA
J-E-T-S | ZOOSPA | Innovative Leisure
Release Date: May 24th, 2019
Between the old \\ new, the traditional – the future. Combinations of soundscapes created meticulously, with simultaneous genres as play; stacking blocks of sounds – never to be narrowly defined. Boxes broken through. Collaborations in the experimental; merged, experienced, a traverse in the inventive.

J-E-T-S creation spawned from the innovative; with two producers both exceptionally dynamic and versatile, an exciting experimentation can only be expected. J-E-T-S is a collaboration between Travis Stewart, commonly known under his moniker Machinedrum – and iconic detroit producer Jimmy Edgar. The expectations of such a collaboration can only bring forth a sound pleasantly unexpected. Their first collaborative full-length, ZOOSPA, not only showcases the producers playfulness when it comes to incorporating a myriad of genres in their sound; but the fluidity of collaboration with other artists to create a unique, dynamic listening experience.

'FIRE FLY' opens with a quick, yet gentle ambience; reminiscent of marbles rolling to a tender silence, glimmering in echo; a soft sweep glides as an aircraft lifting off, growing climatic as saccharine synths break through the atmosphere. An 80s nostalgia glows neon in each note, as the shimmer progresses forward into a bass heavy clap. A curious, fast-paced tremble makes it's submerged voice heard, layered in a synth-chime soundscape dotted with sweeping clicks; flowing into a steady swirl of textures, honeyed, R&B-esque vocals woven meticulously in an engulf of timbres. A moment of heavy gloom as a breath, moving forward into fast-paced heartbeats; allowing the track to fade out with an opaque slow, heavy breathing percussion.
An eerie bell chimes as a greeting in 'OCEAN PPL' a not-quite-there ambience; breaking into stop-start beats, hip-hop-esque twirling with the avant-garde. Bubbled beats pop and click, turntable scratch peeking through steady, clap percussion. An seascape swallows in a submersive bass, a fluid glide into layers of swaying timbres; R&B-esque vocals glitter amongst the engulf, provided by Rochelle Jordan. Genre versatility sings true, as elements of IDM, Hip-hop beats, ambience and smooth R&B accompany the other in a graceful and dynamic dance.
An extraterrestrial synth sings bright as 'Q NATURAL' opens, an interplanetary ambience sweeps into an alien bounce, playful modulation intertwined with quick, angelic samples studded between the energy; focused metallic, distorted breaks as progression. Digital arps buzz polyphonic as a counter to moments of calm, as a technological break builds beneath the surface; swinging low into a glitching dance, a juxtaposition between an alien 8-bit progression and experimental moments of reflection – waves shifting between tone, rising and falling within the chest.
Sculpted into a foundation swirling colours, ZOOSPA showcases the producers willingness to look forward into a shimmering future; taking the traditional, redefining it, building the narrative. J-E-T-S know what it means to assemble and disassemble in playful confidence, their telepathic movement in a world created.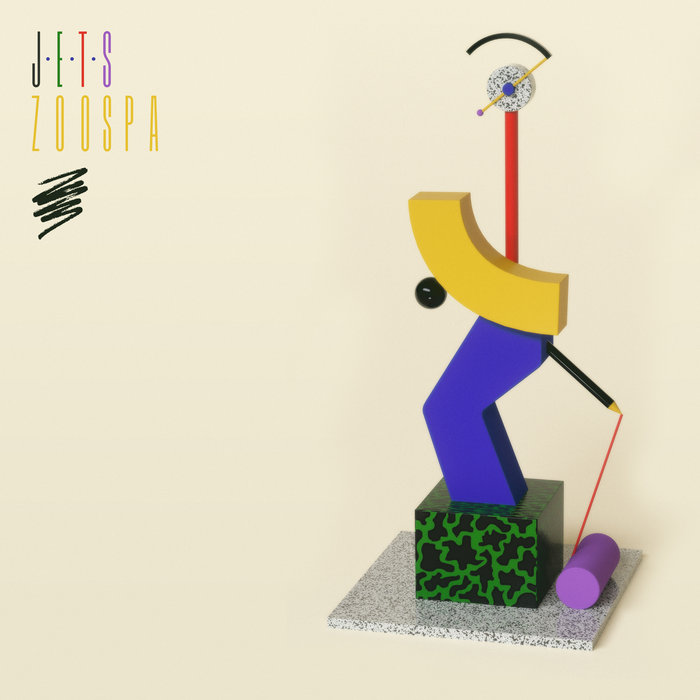 Review by Jenna Dreisenstock
Feature Image by Caroline Lessire