EXCLUSIVE INTERVIEW: 5 Minutes With…Tosca
In a stellar career stretching back to the release of "Chocolate Elvis" in 1994, Austrian duo Rupert Huber and Richard Dorfmeister have, through their work with Tosca, both laid the foundations and pushed the boundaries of downtempo electronic music, constantly evolving their sound and – at the same time – expanding the entire genre's sonic range and its compositional possibilities.
Their latest offering, Going, Going, Going (!K7 Records), is one of those rare albums by a long-established act where, even while not presenting anything majorly 'new' in terms of style or artistic direction, still sounds vital and thrillingly relevant. Indeed, in the case of Tosca's new album, it is perhaps the very familiarity of the deep grooves and layered, intelligent sampling (recalling the band's "Fuck Dub" days) that makes it such a resounding success – almost as if Huber and Dorfmeister have managed to put the Tosca sound into a crucible and burn away all impurities, leaving only this unique specimen behind.
Huber once described the band's music as "a kind of sound architecture, which is glued together by a groove," and that description could be accurately applied to every track on Going, Going, Going. On "Export Import", the album's Fela Kuti-inspired opener, a rolling, churning bass groove is filled out by Fender Rhodes jamming and dub accents that are vintage Lee "Scratch" Perry; while the eclectic "Wo-Tan" lopes along with a deep house, almost trip-hop feel to it.
And while the sheer diversity of the musical palette Tosca displays on Going, Going, Going – from funk ("Loveboat") to acid jazz ("Friday"), from playful takes on lounge ("Shoulder Angel") to moody, ethereal ambient numbers ("Amber November") – is laudable, what is infinitely more impressive is how the band is able to unite all these disparate elements together into a coherently complex and varied album: a single statement, albeit made by a polyphony of voices.
We caught up with Rupert Huber and Richard Dorfmeister, Tosca's brilliant production pioneers, to chat to them about how their fantastic new album came together…
You two have a very long collaborative history. What's it like working with someone for such an extended period?
Rupert Huber (RH): Of all the arts music is maybe closer to something like dance than to literature… So, with music, it is quite normal and indeed inspiring to work together with other musicians. And if there is one guy that always shows up, again and again, that's even better!
Richard Dorfmeister (RD): I find working with others simply generates a chemistry that is on a whole other level compared to working as an solo artist. In our case it has been something that has grown over a very long time – we actually went to school together, and even at that time we had a band called DELHI9.
Have you come to rely on each other's input in the artistic process?
RH: Yes, to an extent. It is good when you intimately know the groove, the timing, the musical language of the other person. When that happens it, opens up some real possibilities.
RD: I think what glues us together are the mutual experiences that we have shared over the years, and the fact that we don't take things too seriously – we can laugh together and produce music at the same time, which is lovely!
The new album's title, Going Going Going, is intriguingly ambiguous. How does the title express the concerns of the album? Is it about 'going back' to familiar sounds, or 'going forward' in search of new ones – or both?
RH: You are right, it is both. Although the going forward is more important, the going back to familiar sounds isn't actually something we thought of while we were making the album. The title is also a tribute to the great contemporary composer Alvin Curran, whose voice can be heard saying, "Keep it going, going, going!" on the track "Olympia".
RD: I think we have always been trying to go forward. After working with more vocal-orientated tracks on the last album [2014's Outta Here], it just felt right to focus on our roots and what we are good at. So I like to think of it like we went back and forward at the same time: we produced our trademark sound, but we took it to a completely new level.
Absolutely. And in terms of your songwriting inspiration, were the sources for this album the same as they usually are?
RH: Every day is so full of emotions, inspiration comes as the day goes on…
RD: What we do is gather up all the inputs of daily life (both the up and downs) and melt them into our music. That way our albums become almost like diaries. The inspiration can come from any source, but then it becomes more about the filtering of the sound – how to turn the idea into music. If we both agree with something it normally works out fine…
To our ears, the album conjures a staggering range of sounds, from Fela Kuti and 1970s Ethio-jazz to dissonant, bassy ambient textures that sound completely new and unique. What musical 'mines' have you been excavating in the lead-up to this album?
RH: This is a very big compliment, so thank you so much. We actually did not think of something special, our plan was only to make some tracks that start at one point and lead to another and to avoid obvious song structures.
RD: We love these inputs that come from more weird sources, especially for vocals and ambient sounds. Fela Kuti is definitely an inspiration, it's great how he was able to compose long musical suites just based around jamming. That is actually what we do as well when we start a track.
How did you guys approach the use of instruments on this album? There is an appealing mix of live and electronic sounds in the recordings…
RH & RD: Mixing found footage with live instruments and electronic sound programming has always been a trademark of Tosca's studio work, and we stuck with this hybrid technique for this album. We just love playing around, as well as collecting sounds from everywhere.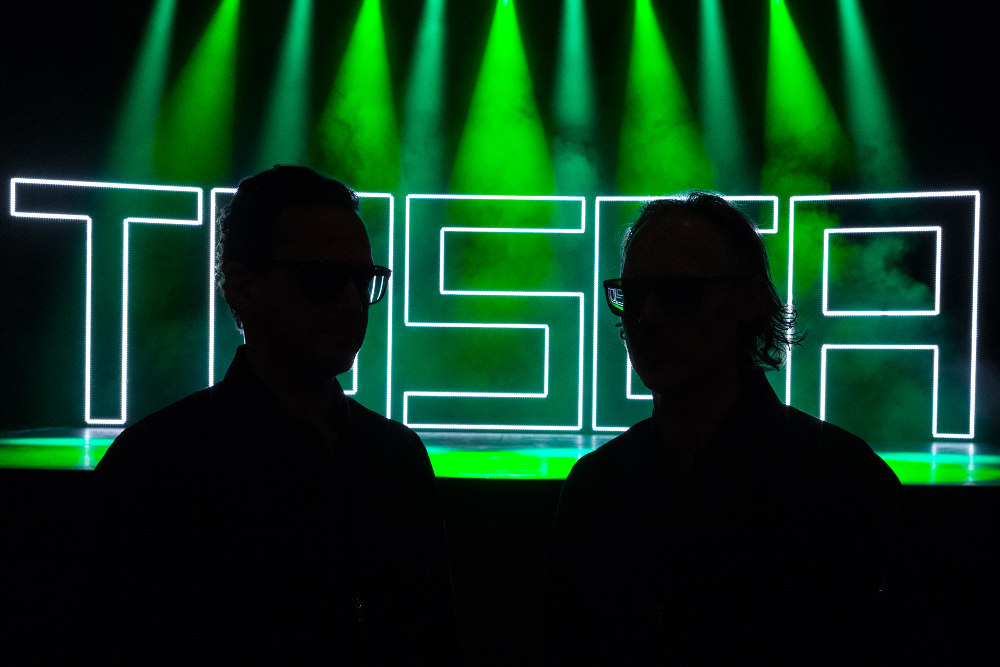 Are there any key pieces of equipment that feature on Going, Going, Going – gear that you feel helps you to define your sound?
RH: For me, I would definitely have to say the Wurlitzer electric piano, the Fender Rhodes electric piano, my Steinway grand piano and Korg MS20.
RD: Yes, the Wurlitzer was one of the first instruments I bought. We also always use an Ibanez jazz guitar in studio and, of course, the Memorymoog. That's an excellent piece of equipment.
Where do you see the future of recorded music heading? Into more and more collaborative artistic spaces, mixing sounds and visuals, etc.?
RH: I enjoy seeing the tools shrinking. You can do decent stuff with just a laptop and some tiny little synths these days. In fact, I just bought myself a Korg Minilogue, it's very small but still has a good sound. I mean, really, you can even have some fun making music on an iPhone now…
RD: Since musicians have less money due to much smaller record sales, the equipment industry is selling smaller and cheaper stuff now. But since social platforms are also so powerful, it is wonderful how easy you can spread your music nowadays…
RH & RD: And with regards to collaborative space – definitely, that is a vision we share with you.
Which other artists are you into at the moment and why?
RH: I recently fell in love again with the voice of Soeur Marie Keyrouz, a nun who sings religious music. She has the most beautiful female voice that I can think of.
RD: Recently I discovered the new album by The Flaming Lips. Honestly I have been never been that much into their sound, but the new album is definitely worth listening to!
How are you guys feeling about 2017? In your eyes, do periods of political/social upheaval and uncertainty produce better artists?
RH: Well, for me, 2017 feels okay so far from a personal and private point of view… Times of peace and certainty can produce good art and artists, and in bad times, bad art is still bad!
RD: All I can say is that 2017 is going to be wild!
Finally, if you weren't musicians what would you be…?
RD & RH: Less intoxicated, for sure…
Going, Going, Going is out on February 17th through !K7 Records.
Here is the album tracklist:
1. Export Import
2. Hausner
3. Friday
4. Wo-tan
5. Chinabar
6. Loveboat
7. Tommy
8. Supersunday
9. Amber November
10. Dr. Dings
11. Olympia
12. Shoulder Angel