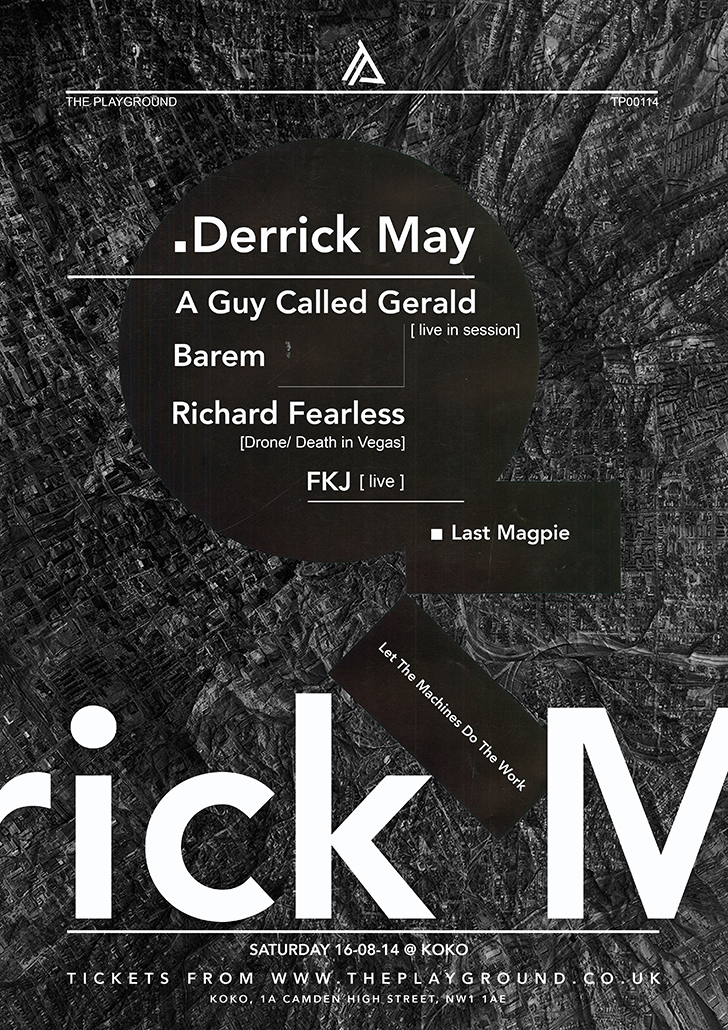 THE PLAYGROUND presents James Lavelle (U.N.K.L.E), Derrick May + A Guy Called Gerald- [Live in Session] + Barem + French Kiwi Juice + Richard Fearless [Drone/DEATH IN VEGAS] + Last Magpie +
10:00 PM - August 17 4:00 AM
Details
---
THE PLAYGROUND is pleased to announce its return to KOKO on the 16th August 2014 with a staggering lineup including headliners James Lavelle [UNKLE], DERRICK MAY and A GUY CALLED GERALD – [Live in session] who will be performing a rare live performance alongside BAREM, RICHARD FEARLESS (Drone/ Death In Vegas), FRENCH KIWI JUICE-[LIVE] , LAST MAGPIE and more!
Please take note that this event will be filmed by the WACHOWSKI's (Known for films such as THE MATRIX) as a reality club scene for their next Sci-fi epic to be released soon.
By purchasing tickets, you are granting rights to the producers to appear within the film. See you on the dance floor!
►JAMES LAVELLE – Lavelle has had floods of success. He shaped the Trip Hop genre with his Mo' wax label and performed a five year residency at Fabric, as well as DJ'ing in other major clubs like Zouk and Womb. He has collaborated with the biggest names of music and fashion, from Radiohead's Thom Yorke and Richard Ashcroft of The Verve to fashion icon Lee Alexander McQueen. "Daydreaming with…. James Lavelle" was launched at London's Museum Of Mankind and has produced collaborations with celebrated artists like Jonathan Glazer, 3D, Jonas Burget, Doug Foster and Turner Prize nominee Nathan Coley.
James Lavelle recently had the honour of curating the 21st Meltdown at the Southbank centre. Lavelle's own label, Mo'Wax, also turned 21 this year and to celebrate he included an interactive exhibition, Mo'Wax 21: Urban Archaeology, showcasing the creative output of the label. James Lavelle's Meltdown was nominated for "Best Independent Festival" by the Association of Independent Music.
►DERRICK MAY – One of the Belleville Three, the cadre of Detroit musicians who tested the levels of spirit within electronic dance music and changed the integrity of the form forever. Derrick May gained huge success during Britain's house explosion with his hit "String of Life," described by Frankie Knuckles as "… something you can't imagine, the kind of power and energy people got off that record when it was first heard." Derrick May's sound is a clever balance between streamlined percussion-heavy cascades of sound with string samples and a warmth gained from his experience of Chicago, enraptured by grooves influenced by Frankie Knuckles and Ron Hardy.
Check out DERRICK MAY playing "Strings of Life" alongside CARL CRAIG
► A GUY CALLED GERALD –[LIVE IN SESSION] The gateway between Chicago House/ Detroit Techno and the Uk Dance explosion in the 80's. The first, if not only, Acid House producer to have 2 instrumental dance tracks in the UK charts at the same time. His visions, stylistic versatility and open-mindness helped forge the development of global dance culture and helped to pioneer the Jungle/ Drum & Bass scene, with "blueprint" tracks like "28 Gun Badboy" and his critically acclaimed "Black Street Technology" album. A Guy Called Gerald is still touring worldwide, playing anywhere from 2 to the now legendary 14 hour sets – no DJ software, no gimmicks, just pure undiluted beats strictly for the dancefloor.
►BAREM – A perfect example of the new breed of electronic musician brought up in the Digital Age, using intuitive software like Reason and Ableton to express emotion and ideas. Utilising On-Line distribution to reach and formulate a global fanbase. When listening to Barem it's clear that he drives most of his energy into producing powerful basslines that underpin his sound. His expansive use of reverb and delay create space for subtle percussive elements and allow eerie, distant melodies to occur on random secondary levels. His DJ sets infuse warm, Latin rhythms with his favourite tracks from a cross section of electronic genres past and present. Such sets have graced the stages of The Detroit Music Festival, Timewarp, Ibiza and 2009's Contakt Special at Brixton Academy.
►RICHARD FEARLESS (Death In Vegas) – Born in Africa, to an engineer and an artist. He began collecting music at an early age ranging from movie soundtracks to The Velvet Underground and The Stooges.. By his early teens he won a scholarship to nurture his own artistic talent and soon discovered Chicago house and techno via ex-NME staffer Barbara Ellen and unearthed a whole new set of possibilities. At eighteen he started working in record shops and put on his own night, Job Club. He invited his favourite DJs to play – Derrick May, Andrew Weatherall, Dave Angel, The Chemical Brothers and more. 1997's Dead Elvis LP and it's follow-up, 2002's Scorpio Rising (featuring collaborations with Iggy Pop, Dot Allison, Paul Weller, Liam Gallagher and more) established Death in Vegas as a true dance/rock crossover act.
► FRENCH KIWI JUICE- LIVE – Better known by the abbreviation FKJ, French Kiwi Juice has mastered the sound of sophisticated, smooth electronic music. With serene sounds, FKJ with his strong catalogue of tracks has found himself on repeat in the dwellings of all Roche Musique alumni. Lying together his first track to hit the charts is built off of a mellow, heartfelt sample, and layered with classic electronic keyboards, and a beautiful guitar bass. With a growing London fanbase with previous sold out shows at The Rhythm Factory, were excited to bring the French producer onto the stage for a live show. Not to be missed.!
►LAST MAGPIE – A vastly experienced DJ, his style spans across an equally broad spectrum, he picks up, gathers and masterfully combines musical gems from across the board to create and influence his finely tuned house and 2step hybrids. He aims to keep his style quite open and unspecific to any one genre under his Magpie moniker drawing from elements of house, techno, dub and garage (UK & US) with a hint of old school jungle.
Stay tuned for imminent updates as the playground returns to its former home at KOKO in Camden bringing you the best in house and techno on Saturday the 16th August!
More
Read Less