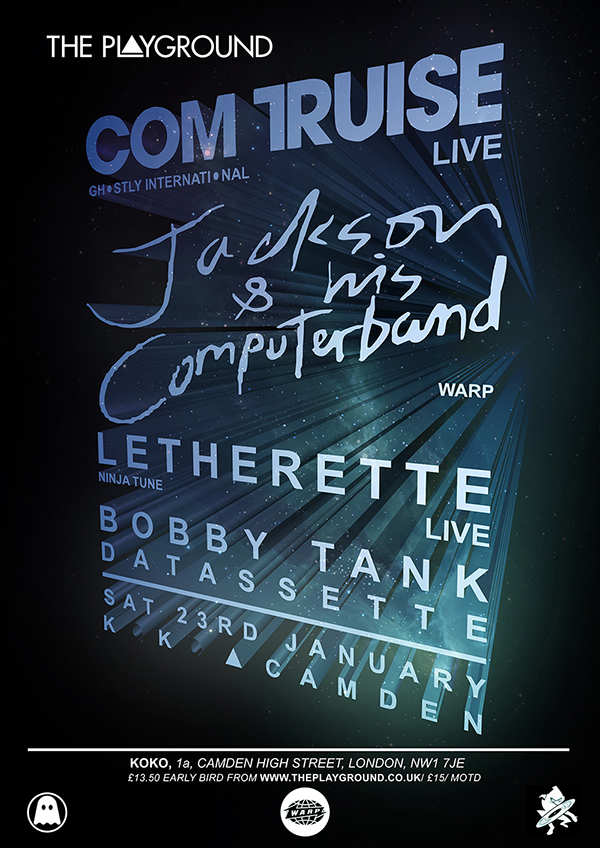 THE PLAYGROUND presents COM TRUISE- Live + Jackson & His Computer Band + Letherette- Live ++
10:00 PM - January 24 4:00 AM
Details
---
THE PLAYGROUND is excited to launch their first event of 2016 kicking off in true Playground style, curating a unique blend of retro-wave and French IDM at the famous KOKO in Camden on the 23rd January 2016. Headliner COM TRUISE of Ghostly International steps up to the plate, performing his biggest headline show to date. Support comes from Warp Records artist JACKSON & HIS COMPUTER BAND with a rare appearance, a special Live performance from Ninja Tune group LETHERETTE,  BOBBY TANK and DATASSETTE.
►COM TRUISE– Having just released his eagerly anticipated 'Wave 1' EP, the Ghostly international forerunner has made a monumental impact since his debut release the 'Cyanide Sisters' EP. Hard to pigeonhole, Truise's (AKA Seth Hayley) experimental take on electronica can only be simplified to "bottom heavy" and has been quoted calling it "mid-fi synth-wave, slow-motion funk". With word of a new album on the horizon, stay tuned for further updates as Com Truise launches Wave 2.
► JACKSON & HIS COMPUTER BAND is the pseudonym of Parisian IDM artist Jackson Fourgeaud. Fourgeaud released his debut album Smash with Warp Records in 2005. Jackson's range of sound, one he champions as an "emotional range", comes from making music between the eras of Daft Punk and Phoenix, and the era of Ed Banger Records, which allowed him to form a lane of his own. Shredding the filtered funk of his Parisian forebears and soldering the remains to an insane carriage of orchestral bombast, red-lined techno and gothic hip-hop Jackson & His Computerband had brought a sense of the post-millennial baroque to the rave.He has since remixed the likes of Justice, Kavinsky, M83, Birdy Nam Nam.
► LETHERETTE join The Playground with a rare live appearance. The production duo, consisting of Richard Roberts and Andrew Harber released their debut album Letherette through their current label Ninja Tune in 2013, and have previously released material on Ho Tep Records. Letherette's musical style often draws comparisons to Hip Hop artists[7] (such as Madlib, J Dilla and MF Doom) and French House acts[8] (like Daft Punk, Alan Braxe and Breakbot). Their musical production involves heavy use of sampling but also incorporates live instrumentation ranging from "guitars to synthesisers and various percussion instruments"
► BOBBY TANK- Bobby Tank is the new wunderkind of glitchy electrofunk, a producer and performer who makes music that sounds like a mosaic of every great electronic dance style of the past 30 years. His music is steeped in 80s pop, R&B and electrofunk, the epic pop constructions of Michael Jackson, glossy soul, hi-tech funk, dextrous jazz fusion, even prog. A self-taught producer, drummer, bassist, guitarist, keyboard player and turntablist, he stumbled across a new kind of future-funk after entering the world of computer music. Over a series of releases he has established himself as a "mad maximalists" akin to Rustie and Hudson Mohawke.
► DATASSETTE- is London based techno experimentalist. Citing Isao Tomita as his biggest influence because of his synth wizardry, Datassette is also a freelance designer / developer working on Flash / Mobile games as a side project.
Stay tuned for imminent updates as THE PLAYGROUND kicks off another spectacular audio-visual show until the late hours of the morning.
More
Read Less