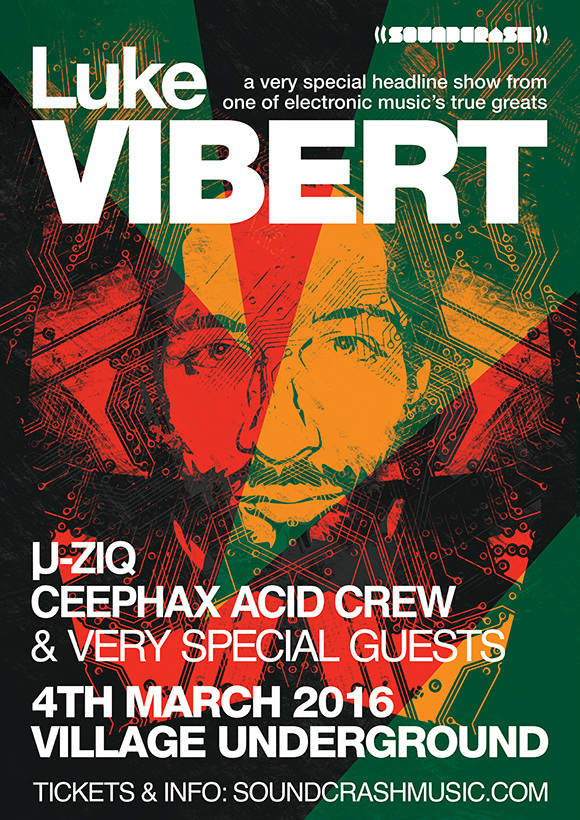 Soundcrash: LUKE VIBERT + µ-Ziq + Ceephax Acid Crew
10:00 PM - March 5 5:00 AM
Details
---
A very special headline show from one of electronic music's true greats
Luke Vibert is back on Planet Mu with a new album called 'Bizarster'. It's his seventh full-length under his own name with others having been released on Mo Wax, Warp and most recently Hypercolour. Luke first came to prominence in 1994 with his debut Wagon Christ High records, which was quickly followed by the evergreen classic 'Throbbing Pouch' with which he cemented both his sound and reputation. He has album 'Phat Lab Nightmare' on Rising released on Rephlex and Ninja Tune as well as major label Virgin too.
What makes Luke's music so essential is his rare ability to blur the boundaries between genres by combining his irresistibly wonky dayglo funk with a British sensibility. Put another way, Luke's music is informed by UK dance's history. Joining Luke will be Planet Mu head Mike Paradinas AKA U-Ziq. Celebrating 20 years of Planet Mu in 2015, Mike is considered one of the leading figures in bringing Footwork over the Atlantic.
Ceephax Acid Crew needs no introduction, his distinctive sound has been punishing ear drums for over three decades. The younger brother of Squarepusher his no nonsense approach has entertained festivals and clubs across the world.
With a very special guest to be announced, come and join us at East London's premier late night venue until the sun comes through the roof.
More
Read Less