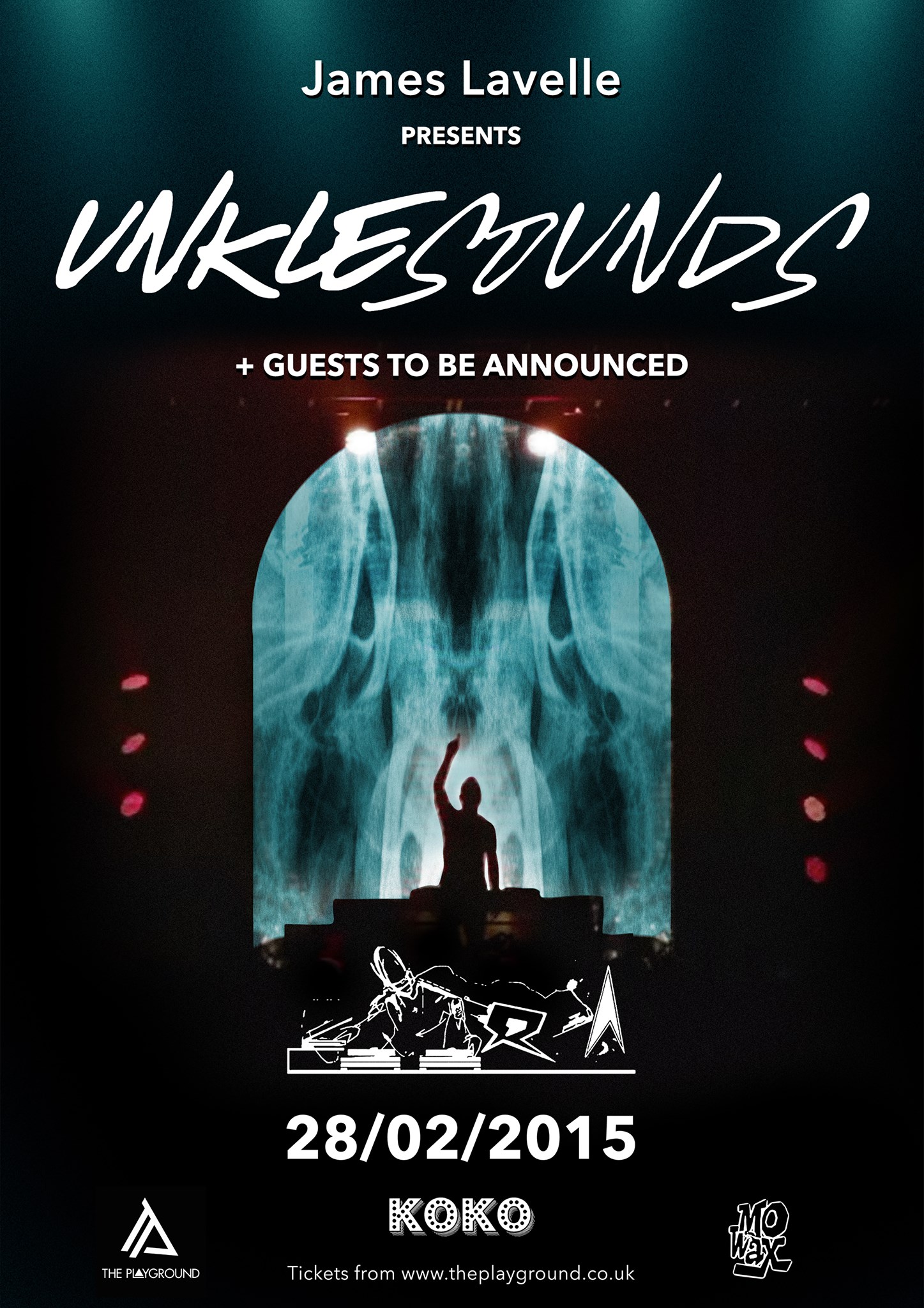 James Lavelle Presents… UNKLE SOUNDS
10:00 PM - March 1 4:00 AM
Details
---
Saturday 28th February
KOKO, Camden High street
10pm – 4am
// ADV £15/ £17.50  MOTD
Tickets: https://theplayground.co.uk/staging/events-box-office/
JAMES LAVELLE PRESENTS….
UNKLE SOUNDS
8:58 LIVE (ORBITAL'S PAUL HARTNOLL)
µ-Ziq
The Playground kicks off 2015 with a rare audio-visual show from UNKLE SOUNDS & Guests at KOKO on Saturday the 28th February. With set and production design by long time UNKLE collaborators, Warren Du Preez and Nick Thornton-Jones, the show will bring UNKLE's illustrious and musical history into the future. With exclusive audio and visuals being prepared, this is a show not to be missed!
► James Lavelle, the DJ, co-founder of UNKLE and head of Mo'Wax label, founded UNKLE in 1994 with school friend Tim Goldsworthy. Originally categorized as trip hop, the project once included producer DJ SHADOW amongst a variety of guest artists and producers. Lavelle and Shadow released Psyence Fiction in 1998 to critical acclaim. The album included collaborations with an all-star lineup including Thom Yorke (Radiohead), Mike D (Beastie Boys), Kool G. Rap, Jason Newsted (Metallica), Badly Drawn Boy and Richard Ashcroft (The Verve). The album was mixed by Shadow's long-time collaborator, producer Jim Abbiss.
It was announced on 18 April 2011 that UNKLE would headline the Dance Stage at the Reading and Leeds Festivals whilst James Lavelle has gone on to curating Meltdown Festival at the Barbican following in the footsteps of Yoko Ono, David Bowie and Morrissey.
► 8:58 (LIVE), the new music project from PAUL HARTNOLL, one half of ORBITAL, Britain's beloved, torch-bespectacled electronic innovators and live techno pioneers.
After closing the curtain on a 25 year career as Orbital, Hartnoll began to explore the freedom of working solo. 8:58 was born through an obsession with time and seeks to take Orbital's delirious complexity and weapons-grade dancefloor appeal into new and more sophisticated areas.
8:58 is an evolution of where HARTNOLL wanted to take ORBITAL. He wanted to do something more collaborative, more of a film soundtrack or a concept album.
With 8:58 Hartnell embarks on intriguing, twilit collaborations with Northumbrian folk clan The Unthanks, sepulchral singer-songwriter Ed Harcourt, folk singer Lisa Knapp, and Robert Smith of The Cure. 'Peaky Blinders' actor Cillian Murphy also offers his vocal talents for a spine-tingling monologue. The live show will take on a theatrical form. Hartnell's project will take on an apocalyptic, dystopian atmosphere and he plans to perform whilst sitting behind a desk with clocks and an anglepoise lamp – a man at work, a Magrittean representation of the time travel and escape from the ordinary that music provides.
8:58 is a time machine and a walk-in dream, a dance record for the mind, and a concept album that effortlessly moves the body. To quote Cillian Murphy's introduction, "Brace yourself for freedom. Now."
► µ-ZIQ AKA Michael Paradinas is one of the premiere names in the field of electronic music and founder of Planet Mu Records, a label that celebrates their 20th anniversary this year.
μ-Ziq released his first records via Richard D. James (aka Aphex Twin) and his label Rephlex Records. Following a string of remixes of Aphex Twin's work, Mike Paradinas and Richard D. James also release an ambient-techno album together entitled MIKE & RICH in 1996, also known as Expert Knob Twiddlers.
Paradinas' first major-label release came later in 1994, after he undertook a remix project for Virgin Records: the Remix EP The Auteurs VS μ-Ziq for the britpop band The Auteurs. Virgin Records went on to grant Paradinas his own sub-label- Planet Mu, in order to release his own work and to develop similar-minded artists. Paradinas later broke with Virgin and in 1998 established Planet Mu as his own independent label.
The label started releasing music by like-minded experimental electronic musicians, it's earliest successes in this field being Paradinas himself, Jega, Capitol K, Hellfish & Producer and Luke Vibert. Since the early 2000's the label has also tracked and reflected Paradinas' love of British dance music, releasing one of the first Dubstep albums, Vex'd's "Degenerate" and one of the first Grime albums, Virus Syndicate's "Work Related Illness" both in 2005, as well as many 12″ singles by the likes of Benga, Distance, Boxcutter, Pinch and more.
Stay tuned for imminent updates as THE PLAYGROUND kicks off another audio-visual spectacular until the late hours of the morning.  
More
Read Less