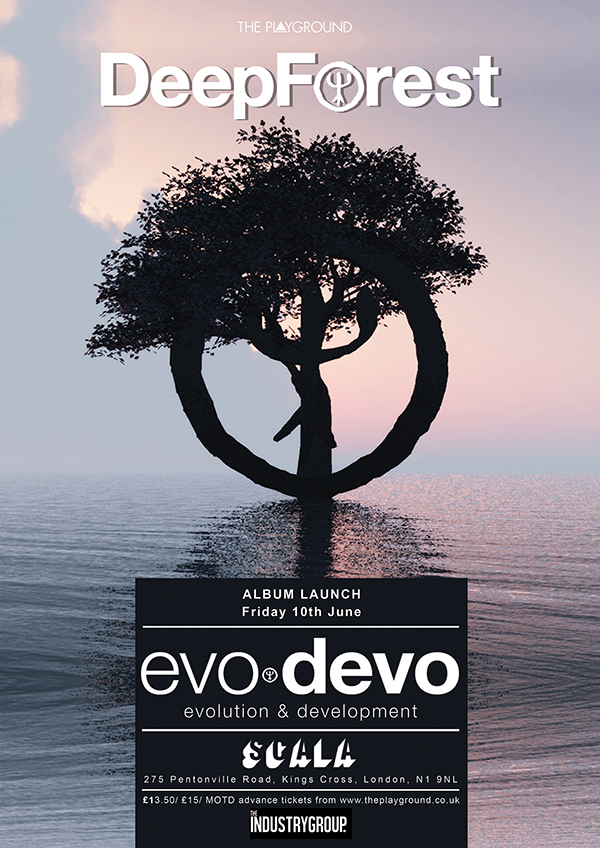 DEEP FOREST- Live & guests/ EVO DEVO Album Launch
-
Details
---
GRAMMY AWARD WINNING artist DEEP FOREST returns with
new Album "EVO DEVO" on the 10th June via Metropolis Records and will be performing in London for the first time with full live band and supports to be announced!
Deep Forests' Signature-Anthem "Sweet Lullaby" instantly opened the world stage for the band. Their associated first album became a huge success and gained gold, platinum or double-platinum status in numerous countries like Australia, France, Germany, Great Britain, Japan or the United States. In 1995 Deep Forest won the prestigious Grammy Award for their album Boheme. They were the first French artists to win a Grammy Award and to this day, they only share this honour with Daft Punk.
Over the last 20 years Deep Forest released numerous highly regarded albums including exciting collaborations with Peter Gabriel, Josh Groban, Joe Zawinuls' Syndicate, Paco Sery, Rahul Sharma, Lokua Kanza and many more. Deep Forests last releases include Deep Brasil, Deep Africa and Deep India where Eric Mouquet explores the unique musical expressions of some exciting cultures.
With the distinct ethnic-driven sound of Deep Forest, Eric Mouquet belongs to the few unique pioneers of electronic music. His highly recognizable sounds defined the concept of world music and shaped the all-new sound of ethnic-electronica. Since the very first album of Deep Forest, Eric Mouquet loved using and exploring samples: "I experimented a lot with parts of sounds, songs and voices. This technique contributes the heart and soul to the very own sound of Deep Forest."
"Composing a new album is always something special and quite a magical process. I compose and experiment in the studio for months, crafting sounds, taking notes, exploring new machines, playing, improvising and finally letting the music evolve without any pre-conceived idea. One day without any special reason, everything starts to make sense, the different ideas gather in a logical form and there it is: the finished, brand-new album.
When I started this one, I did not imagine, that the music finally could lead me to all these songs. Step by step I realized how this album was related to the Boheme-Deep-Forest-Feel and at the same time was so deeply anchored in contemporary electronic music."
Deep Forest is in constant evolution, persistently digging, exploring the roots of the past albums to arrange and develop new sounds and musical adventures.
"The concept of Evo-Devo, which is based on studies of the process of evolution and the ability of nature to create new forms and structures, is part of my musical approach. Starting from a single sine waveform to create any kind of sound, based on the broad heritage of the Deep Forest influences, make me feel like these scientists trying to understand the secret of life…"
With his new album "Evo Devo" Eric Mouquet has gone even further – and nevertheless simultaneously back to the "bohemian feel" of his early works. His tonal craftsmanship has developed into an own artistic language. Every track explores a distinct emotion. You can almost feel and follow Eric's inner motivations and share his musical journey to the frontiers of contemporary electronic music and beyond.
Deep Forest will perform at SCALA on the 10th June for the release of his new album EVO DEVO. Stay tuned for imminent updates as we announce further shows and bring EVO DEVO into the light.
More
Read Less