Coronavirus Concern Causes Mass Cancellation Of Events Across Asia
Since the outbreak of the most recent coronavirus traced to Wuhan, China in late December – the virus, officially titled COVID-19, has ravaged through the country with over 70,000 cases and an estimated 2600 deaths recorded within their borders: significantly affecting the country's economy, essentially bringing it to a standstill. It's important to note, however, that full recoveries are fast surpassing the death rate.
As cases have begun spreading outside of China, countries around the world are doing what they can to halt the spread of the virus. According to the World Health Organisation, COVID-19, as with other respiratory infections or Influenza, spreads from person to person via close contact. As COVID-19 makes its way across Asia, affecting places such as Malaysia, Singapore, Hong Kong, Vietnam, the Philippines and Japan, the nightlife industries are suffering huge losses; with large public events seen as a health risk when it comes to the spread of the illness.
Many artists who were set to perform internationally have cancelled appearances amidst the scare; with many clubs within China forced to shut their doors by authorities until officials give them the green light to re-open.
Clubs such as TAG in Chengdu – a hotspot for the underground techno and house – and Loopy, a loving home to the experimental electronic community in Hangzhou, have been required to cancel events and temporarily close their doors until the situation in China stabilizes.
Outside of China, festivals such as Unknwn Festival in Manila, which was supposed to take place on February 22nd – announced it's postponement until further events can be scheduled. Sónar in Hong Kong, originally set to take place on March 28th – has been refunded and postponed until further notice. Vietnam and Singapore have also seen cancellations due to concerns over attendance and infections.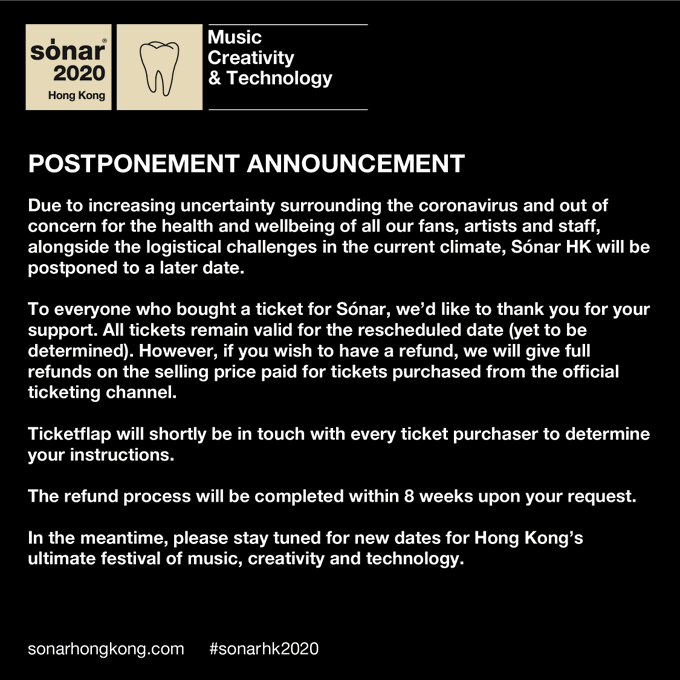 Zaran Vachha of Collective Minds shared his thoughts on the effects the coronavirus scare is having on the live music industry with Gig-Life Pro, a network focused on the music industry in the Asia-Pacific – citing misinformation and mass-hysteria as one of the determining factors when it comes to public perception of travelling and attending events.